10 Tips to Increase Speed and Performance of a Website on Mobile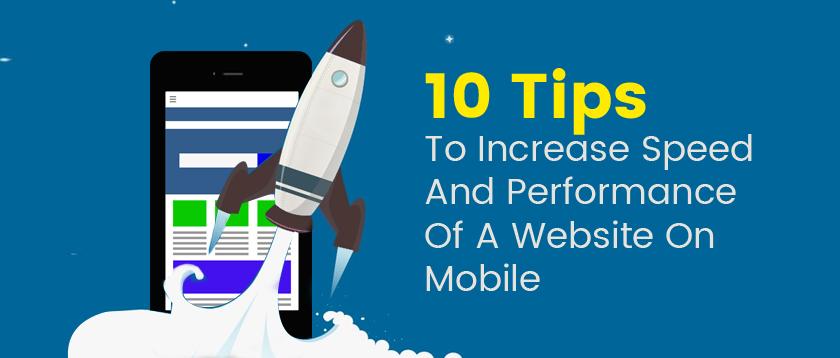 When your website hangs on to that eerie processing sign, or takes time to upload images, videos, etc., especially on a mobile phone, you lose out on intended customers every second. Favor yourself and get a mobile website speed test done for your landing page. If it takes more than 3s to load, you are well below the optimum Google standards. It shall hinder your website climb up the Google search pages organically as well. As Google now takes into account the mobile user experience during searches, you need to increase website speed. We understand that glitches are innate to technology. But, we can sure help you with steps that will help to improve your website performance:
1. LOWER THE AMOUNT OF HEAVY CONTENT: Content that require separate loading from the internet like the images, videos, etc. should be kept at an optimum minimum. You should minimize, compress and try to combine these files or increase their loading speed by asynchronous loading option.
2. LOAD HEAVIER CONTENT LATER: You could also chose to load the heavier content, once the rest of the page has loaded. It helps the viewer to begin getting the hang of things and sure does speed up your website.
3. SPEED UP YOUR HOST AND SERVERS: If in a mobile page speed test analysis, if your host takes more than 200 ms to upload your first byte of data, you need to check up on his services and systems. This is the Google defined optimum speed and anywhere close to this is good enough.
4. MINIMIZE REDIRECTS: More the redirects, more times you require the server to look for pages and more time it takes to load your landing page. Keep it minimum and simply straight, wherever possible.
5. MEASURE AND MINIMIZE ROUND TRIP TIMES: RTTs is the time it takes for a command given or a button clicked to get the intended response. It should too be minimized.
6. ENABLE CACHING OF YOUR WEBSITE CONTENT: It will enable storing of your web pages heavier content inside the cache of the viewer. The pages would require loading less content and help decrease the web page load time on return visits.
7. COMPRESS IMAGES: If you are an e-commerce site and require simultaneous loading of various images, as a good practice compress them regularly for fast loading.
8. EMBED VIDEOS: For the heavier videos, best practice is to upload them on a third party platform like You tube, etc. and then embed them in your web pages.
9. ONE CSS FILE: Always keep one separate CSS file to upload style for each webpage. It helps to save on load time of this content again and again.
10. REDUCE PLUGINS: Wherever possible, remove plugins as they tend to take time to load and then process their functionalities.
Still contemplating on 'how to improve website performance'? Visit FSC for the perfect in-depth guidance in this respect.
Google Adds Favicons to its Mobile Search Results
Best Professional SEO Services in India Provided By FSC
Googles New Gallery Search Ads – Everything You Need To Know
5 Reasons Why Your Website Should be Updated Regularly
How to Make Your Brand Stand Out From Competitors in the Crowded Industry