Choosing the Best Web Development Platform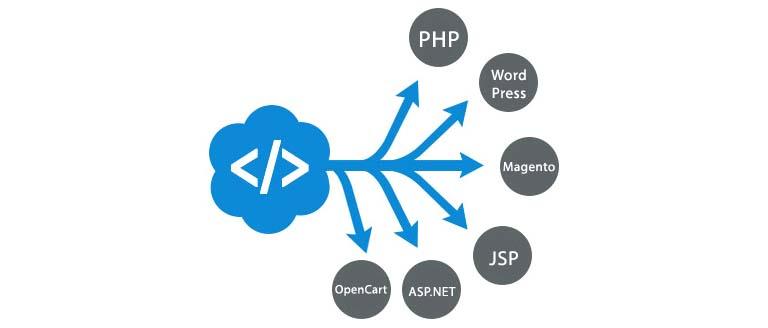 A storefront to your business, a website is an online portal into your world of services which people browsing the internet can easily access. In the modern times, a website generally functions as the point of the first contact between the customer and the seller. And that makes it all the more important to invest in an impressive, illustrious online portal.
Before you begin developing a website, you need to have a fair idea of the web development platform you'll be putting to use. This platform, in general terms, is the elemental programming language your website is going to utilize. The decision, of course, has its own set of implications and can affect the development, functionality, servers, and future costs. And therefore it's important to know which platform caters to your specific requirements.
Let's find out.
PHP
A server-side scripting language, PHP originally stood for Personal Home Pages. It's now referred to as PHP Hypertext Preprocessor. PHP offers amazing versatility when developing dynamic websites. What's most amazing about this language is the fact that it is free to use, and despite being an open-source language, it comes with a host of benefits and functionalities.
PHP provides a robust framework which can easily handle a mass influx of traffic. However, a grip on programming languages is a prerequisite for using PHP.
WordPress
WordPress is the elder in the world of web designing platforms. Since its actualization in 2003, it's been widely used as a blogging platform owing to its easy-to-operate environment. WordPress offers numerous tools for complete website management and thus it can be used by novices and coding experts alike.
There are tons of themes and plug-ins assisting in proper customization along with a number of Search Engine Optimization tools.
Magento
A scalable platform, which is also one of the best web development platforms, Magento is a feature-rich development language for developing e-commerce websites. With thousands of available tools and modifications, you can endlessly customize your website. Adding to its credibility is the fact that Magento has a highly active user forum assisting budding developers.
JSP
Java Server Pages (JSP) helps develop dynamic websites based on HTML, XML and other types of documents. It was introduced by Sun Microsystems to compete with ASP.NET and PHP. And just like ASP, it's a server side language wherein the code is compiled first and later executed by the server as an application. It more or less works similar to PHP and ASP, except for the fact that it uses Java language.
ASP.NET
It's a proprietary platform by Microsoft for developing web applications. Unlike PHP, it's not open-source but there is a huge library consisting of a number of basic database and functions, and also comes with technical support.
One major advantage of this language is that it's ubiquitous; majorly all the developers are acquainted with the language so you wouldn't be short on resources if you begin developing using the language.
OpenCart
OpenCart is easily installable on shared hosting, super-fast and easy to work with; and that makes it a very popular e-commerce platform. Further, a lot of templates and themes are available, along with an admin panel.
FSC is a result oriented Website development company in Delhi providing the website designing, responsive web design, web development services in Delhi.
Ways to Maximize Average Order Value (AOV) of Your Online Retail Business
Best SEO Techniques- Getting Your Website Rank on No.1?
Get More Traffic To Your Website By Creating Local Brand Strategy
Optimize Your Website With Voice – Activated Search
5 Ways to Turn Your Website into Revenue For Your Business