Creating Device Specific PPC Campaign for ROI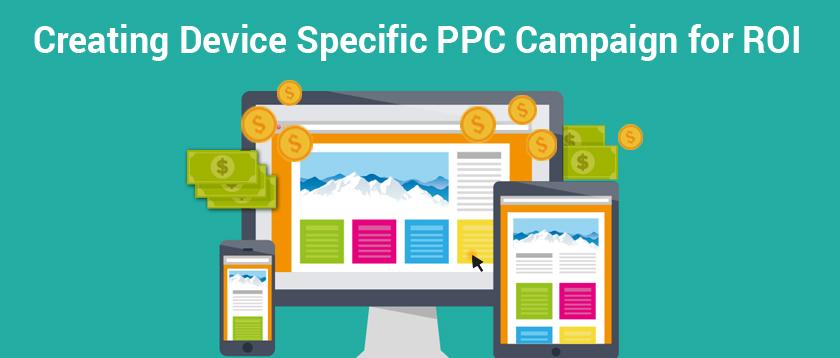 PPC or Pay per Click campaign is a way of internet marketing that helps in generating clicks towards our website which brings in traffic to the web portal by the usage of appropriate keywords related to the products or the services on the web page. The PPC campaign is a paid one that provides money on each click to the publisher by the advertiser. However, ad campaigns must be completely optimized and should be compatible with all the devices, like mobiles, desktop computers, laptops or tablets. Creating a PPC advertisement campaign that is device specific is crucial as if these PPC practices are not followed, then it might impact your ROI (return on Investment). It is vital to plan out a strategy so that your PPC campaign works towards its goals and you achieve the desired ROI. With a device-specific PPC campaign, you will get a high advantage over non-compatible PPC as nowadays consumers are more likely to do net surfing on mobiles or desktops rather than PC's or laptops.
Your Advertisements must be designed in such a manner that they are equally effectual on a big screen as well as a small screen so that you get immense traffic through PPC campaign. The customers visiting the publisher's website must be so much attracted by it that they get propelled towards their website through the ad. With the increase in PPC towards your web portal, you will get large website traffic that will enhance your sales and ROI. PPC is a low-cost way of online advertising which calculates insights of the visits, clicks, views etc. through the algorithms provided by Google timely. With the usage of targeted keywords that must be proper, you can attract potential buyers to your online portal or e-commerce website and get huge sales with little efforts. To get an effective device compatible PPC, you can opt for a PPC advertising company that can design your ad for you which will direct net traffic towards your web page.
If you want to spread the brand awareness about the website and receive higher values of ROI than PPC is the best tool for advertising that will help your company reach new skies with least efforts. These marketing companies' help in creating amazing content for all types of businesses and the content is specifically placed to attract the target audience. Your website page will be designed in such a manner that the traffic is directed towards a page that is engaging and alluring so that they are attracted towards buying the product. With the complete use of analytics, your ads will be out of the box and will entice consumers to buy from your website rather than that of your competitor. With the complete usage of data research, campaigns will be designed to for particular regions and types of audiences that are the main target consumers of your product.
FSC India is an amazing PPC marketing company that has experts to perform all the tasks related to the creation of device-specific PPC campaign that will help you achieve ROI beyond expectations. With the usage of Google AdWords and targeted keywords, your business is likely to get high ROI and your PPC advertising is sure to be innovative and different.
Strengthen Your Market Position by These 5 Branding Strategies
Important Tips to Consider For E-Commerce Website Development
5 Reasons why startups need a good Website Design
Check Out The Big Digital Marketing Trends in 2019!
Google Adds Favicons to its Mobile Search Results