Difference Between SEO and SMO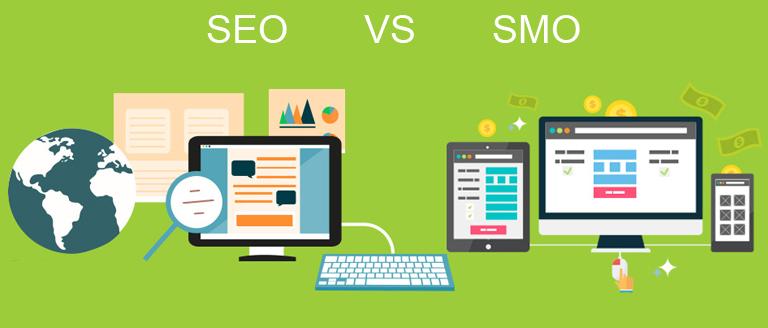 Change in scenario has enforced alteration in the methods of marketing for all kinds of businesses. Since the customer is now digitally more involved, marketing has gone digital too. The consistently increasing user numbers on online sales companies namely Amazon, or Flipkart validate this fact that people are more interested in investing their money where they are serviced well and provided with overwhelming number of options to choose from. Strictly speaking, meeting the sky high customer expectations is the real challenge for the businesses today.
Digital Marketing is the modern day method of marketing through which a business can reach to their targeted customers effortlessly. From established to emerging companies, everyone wants to digitize their work. Digital marketing involves certain techniques, of which the most important one is awareness among the audience about the products offered and visibility in the top search engines such as Google, or Bing. It's a quintessential fact that we trust the websites that are listed in the foremost pages of search engines. So, in order to achieve such thing, a Search Engine Optimization technique has to be learned and applied.
Search Engine Optimization (SEO) is a set of strategies with an objective of bringing more and more people to visit your blog or site. Technically, it means enhancing the traffic on your domain. It can be done by using some specific keywords, or using interlinks, or being regular with the content. There are several methods of optimization. Furthermore, SEO is budget friendly and gives smaller companies the room to participate.
On the other hand, Social Media Optimization (SMO) is related to spreading the word about the business on social networks such as Facebook and Twitter in order to keep the audience updated. This is a tricky task to execute considering all the social media sites are already cluttered with numerous promotional posts or tweets which users generally try to avoid. So, instead of driving the user away, a person can be indirectly engaged through a content, or conversation.
There are many firms which provide the service to companies willing to boom their business. Although, a lot of such enterprises who claim to be an expert in service turns out to be fraudulent. It's of utmost importance that a company should seek help from an appropriate agency. For instance, FSC Pvt Ltd is the most trusted SMO and SEO Agency in Delhi rendering quality service since a decade and has hundreds of satisfied clients. So, if you are a starter aspiring to expand your business digitally, FSC Pvt Ltd is the organization to associate with.
Ways to Maximize Average Order Value (AOV) of Your Online Retail Business
Best SEO Techniques- Getting Your Website Rank on No.1?
Get More Traffic To Your Website By Creating Local Brand Strategy
Optimize Your Website With Voice – Activated Search
5 Ways to Turn Your Website into Revenue For Your Business