Digital Marketing As A Career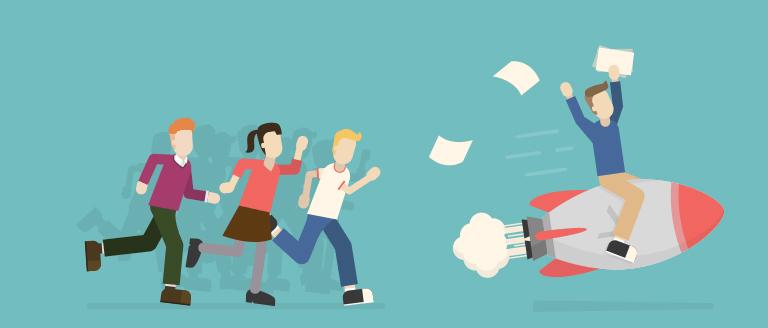 In the last 5 years, digital marketing has seen a colossal boom. Digitization is getting more and more popular and digital marketing skills are in serious demand. Studies by Digital Marketing Association state that digital marketing industry is worth $62billion. Also, advertising via mobile phones saw a whopping 180% increase just in the previous year. So, if you're looking to break into the digital marketing industry, there could be no better time than this. All it takes is a spark of creativity and a knack for the internet.
A career in digital marketing includes the following roles:
– Digital Marketing Expert
– Content Marketing Executives
– Inbound Marketing Manager
– Social Media Experts
– SEO Specialists
– Content Writers
– Copywriters
Digital marketing, as an industry is still evolving, and these roles are yet to be standardized and can vary from organization to organization. Also, educational requirements vary from position to position.
It is a vast field with an array of segments such as Search engine optimization (SEO), Search engine marketing (SEM), Social media research, E-mail marketing and much more.
For a successful career in digital marketing, a person should keep some points in mind:
1. Eagerness to learn: Digital market industry is dynamic. It is growing at a considerable pace and getting more and more competitive. One should be hungry for knowledge and skills and should be eager to learn newer trends.
2. Up-to-date knowledge: Major digital marketing websites should be regularly followed. Advertising platforms change their algorithms from time to time. Keeping a track of these tweaks is important if one needs to stay.
3. Choosing a specialization: Having a general knowledge of all the segments of digital marketing is not going to help. Companies would not be willing to employ an individual who lacks a specialization. Whether it is SEO, analysis or designing, a specialization in any of the segments would give you an edge over others.
4. Attending webinars and networking: Attending webinars and seminars is a sure shot way to learn from the experts. Moreover, surrounding yourself with experienced people would help you enhance your set of skills.
A degree or an equivalent qualification in any marketing program can seriously improve your chances of landing a nice digital marketing job. FSC Pvt Ltd offers a variety of internship courses to aspiring, young minds on a lookout for a rewarding digital marketing career. Feel free to contact them through their website.
Strengthen Your Market Position by These 5 Branding Strategies
Important Tips to Consider For E-Commerce Website Development
5 Reasons why startups need a good Website Design
Check Out The Big Digital Marketing Trends in 2019!
Google Adds Favicons to its Mobile Search Results