How do FAQs Increase Website Traffic and Sale?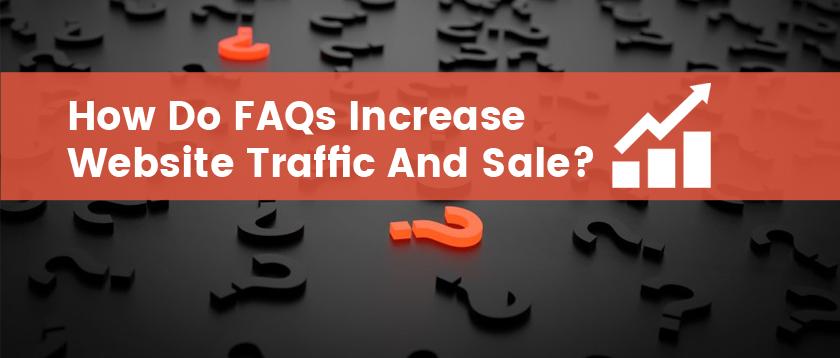 So, you have a website? Great. And you have an application too? Even better. You have a good online presence. Are you thinking on the lines of how to increase sales or how to generate traffic to your website? A well-designed FAQ page may help. If you don't have one or have never paid heed to the content of the one you actually have; you are missing up on a bright opportunity to connect with your viewers, buyers, intended customers, etc. on the whole.
WHY DO YOU NEED THE FAQ'S PAGE?
FAQ's stand for the 'frequently asked questions' page on your website. You need to first keep in your mind that your website or an application is a complete store-kind of a package for your intended viewers and customers. And, since you're not physically present there to help them out or guide them, you require something else to do exactly that. Best FAQ pages are meant to help your clients, understand your product or services, its intrinsic details and answer any related query they may have in general. This page is thus, as important as any other page of your website including the home page and order page. Apart from that, it also helps in easy navigation for the client as many of them may have a pre-conceived notion of looking out for a FAQ page for general outlook of the product or service at hand. He or she also may have a genuine query about your product or service.
Now, without an impressive FAQ for an e-commerce site, they might have to look somewhere else for answers. They might end up being navigated somewhere else to a competitive website. It can cause you a direct loss of business. That is surely not what you want.
HOW TO INCREASE WEBSITE TRAFFIC WITH FAQ PAGES?
You require an impressive page. Let us understand how and why you do it:
1. Your FAQ page should be drafted with the perspective of an intended visitor or buyer. It shall then be able to connect with them at a more personal level. It should help the buyer finalize his decision in your favor. It is more like having a not-so intruding, yet attentive salesman in the backdrop.
2. Your FAQ page should also answer questions pertaining to your industry as it will help you place yourself in a position of authority for the view of the visitor or the intended buyer.
3. FAQ'S page content should be designed logically in accordance to your website sequence. So that, it may logically fulfill the reason it was designed for.
4. Design seo frequently asked questions page (Search engine optimized).
If you think that your FAQ page is not that great, you could seek help from FSC India. We shall well-research every aspect of your product or service to create content for a stronger brand image related seo FAQ page.
Important Tips to Consider For E-Commerce Website Development
5 Reasons why startups need a good Website Design
Check Out The Big Digital Marketing Trends in 2019!
Google Adds Favicons to its Mobile Search Results
Best Professional SEO Services in India Provided By FSC