How To Get Your Travel Agency Listed On TripAdvisor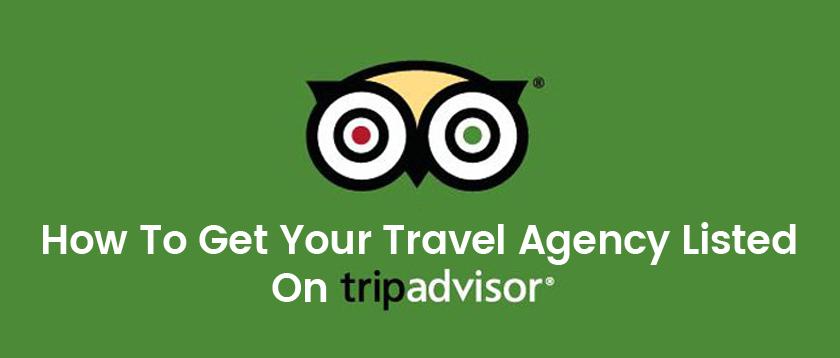 The Internet is a whole new world and a whole new market altogether. It has managed to consolidate the markets and the buyer's world onto a digital platform that can be accessed from anywhere, anytime. Same is also true and actually, more so for the travel industry. Most of the bookings, reviews, and discussions are had, viewed, enlisted, selected, and even finalized on these digital platforms only. There are many social, travel aggregating platforms that are on the forefront of this business model. Tripadvisor is one such frontrunner platform. It is known to accumulate more than 50 million visitors every month with most of them further posting reviews and photographs. The properties and businesses that get positive reviews are further sought by intended travellers the world over. Thus, TripAdvisor business listing is one of the best ways to expand your travel businesses using the old trend of word of mouth, where in the mouth is digital. Since, it is such an important aspect of your business-profile, it is mandatory you give proper attention to registration, profile creation and its maintenance.
Let us understand how do I list my property on Tripadvisor:
1. Be clear with yourself and your intent, that you are doing it just to promote your business and to garner positive views. Negative reviews, if any, shall be taken into stride and positively replied to.
2. First and foremost, always remember that to register on such a platform, your business company is required to have its own digital entity, i.e., a website or an application already hosted on the world web. Tripadvisor shall ask for and include them in its profile of your company.
3. Visit the site, and open the 'tripadvisor business page'. It is the formal business-registration page on the website.
4. Find the search box and type in your business name and city of work. It helps TripAdvisor to locate your business enterprise.
5. You will then see a list of businesses list being populated by the website on its own. Choose your business type from the list.
6. Your business page shall then appear on your screen. Click on 'register now' to register this company page of yours as a registered profile. Your TripAdvisor listing has been successfully created.
7. Sometimes, unforeseen issues crop up during registration of travel agency profile. They have to be done in a certain order, following some rules. For example: TripAdvisor mandates that the day tour section of a travel company should specify the starting and end points of a tour and the content should provide an extended description of the same.
8. Once your profile is created, go to its management centres and enable monitoring, reading and responding to reviews of your clients in real-time.
If all this seems like a cumbersome task, you could always seek help from companies like the FSC – Digital Marketing Company In Delhi, who shall perfectly guide you on how to create a business page on TripAdvisor.
Google Adds Favicons to its Mobile Search Results
Best Professional SEO Services in India Provided By FSC
Googles New Gallery Search Ads – Everything You Need To Know
5 Reasons Why Your Website Should be Updated Regularly
How to Make Your Brand Stand Out From Competitors in the Crowded Industry