How to Increase Revenue from Existing Customers
Posted On :March 16, 2018

/

Categorized In : SEO / Web Designing

/

Written By : Rahul Dubey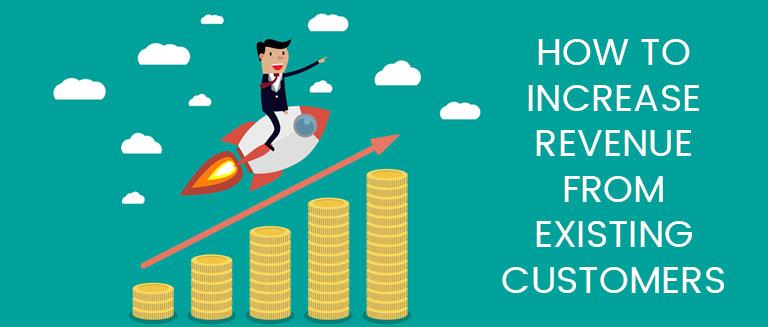 Internet connects people and thus, prospective clients globally. In this digitalized world, going online for each business, however big or small is imperative. Any static simple few page website is seldom able to make a cut with the prospective clients nowadays. Customers want more.
If you are a business owner or an employee handling someone other's business, you would know. Companies always have to keep evolving products, services and strategies to make themselves a better prospect for the customer. They have to keep looking out for ways on how to increase sales revenue.
Stagnation and stopping down is just not an option. Returning loyal clients in these strategies are a testimony of the quality of products and services made available and likeability of the company as a whole. Thus, they should be always well cared for.
This blog shall help you provide an insight on ways to increase revenues from these existing clients:
A Good Brand Image: If a customer has bought your product or service once, he is most likely to believe into your brand image. Always ensure that your marketing strategies, events and product developments aim to enhance the company's core value and this brand image. Experienced companies like the Futuristic Simplified Computing have helped their clients in making this possible through very sophisticated ways.
Customization Is Key: If you are providing your customers a product or service that can be customized in any way as per the preference of the customer, it could become your most sought strategy to increase sales revenue. More the customizations, more the customer feels special and connected to you.
Loyalty Privileges: Cards, discounts, special offers, points, credit scores could actually become the customer's answer to 'why you'. It gives the customer a sense of getting valued and is one of the best and most used customer retention technique. It also helps to establish a token of relationship between the customer and the seller. Now, as a company you definitely want that.
After-Sales Service: A client may buy your product or service once seeing your attractive website or application. But a good overall customer experience is required to make them into a loyal one. After-sales, timely customer support helps to achieve overall customer satisfaction.
Going Social Is Essential: Each viable as well as existing customer should be contacted personally. There are various ways to do that including social media websites, emails, messages, surveys, etc. As a business owner or the one running and developing it, you need to decide on your suitable strategy for different clients to keep in touch.
Word-of mouth still goes a long way and no one does it better than a happy, loyal client.
5 Reasons Why Your Website Should be Updated Regularly
How to Make Your Brand Stand Out From Competitors in the Crowded Industry
Various Ways To Attract Visitors To Your Website
Ways to Maximize Average Order Value (AOV) of Your Online Retail Business
Best SEO Techniques- Getting Your Website Rank on No.1?