How To Optimize Your Website For Google Search Box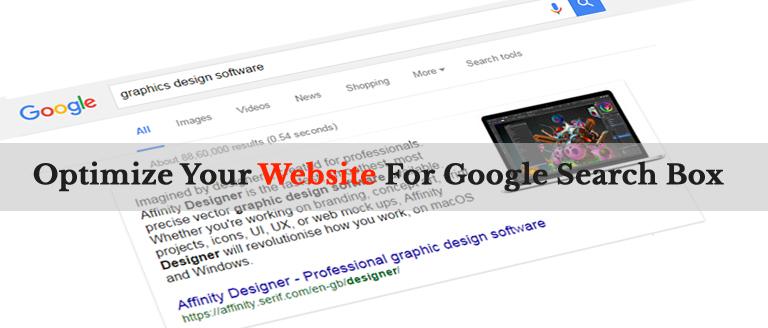 The Google search box is a powerful tool at the disposal of website owner and digital marketing experts. The search box appears in the results when you search for anything on Google, it allows users to search files, URLs, and contacts on their computer, as well as performing actions on the results. In our earlier blogs we have established the importance that Google plays in authenticating your website and giving you an edge over competitors. People who use Google to carry out their searches are bound to have more faith in the brands that show up in the primary search results.
So just imagine if we take it one step further and somehow coerce Google into putting your brand or business name in Google suggest. Those well versed with SEO would know that it is a technique where Google algorithm is tricked by manipulating searches and honestly what could be more awesome for your business than Google suggesting it to your visitors.
There are certain criteria that need to be taken care off in order to make your business visible in the Google search box. The terminologies that are picked by Google are based on the following things:
· More mention on the web
· High search volume
· Personal searches
· Search diversity based on searches from different countries and regions
Most often people using search engine tend to click on the suggestion that appears in the Google search box. This is why in order to divert the maximum traffic to your page it is important to optimize your website so that it appears in the Google search box. You can easily do so by following the basic guidelines mentioned below:
1. The most basic thing that you need to do is invest your time in some research to find out if there is a Google Answer Box that applies to the content on your website, if not so, tweak the content accordingly.
2. You need to put catchy SEO titles and Meta description that convinces the user that you have the information that the search box showed them, which encourage them to click on your link.
3. Create informative and substantial content that matches the Google Answer Box.
The trick lies in providing information in such a way that it is beneficial for both Google and the searchers. This way you can lead them to your website by leaving a trail of breadcrumbs for them to follow.
Ways to Maximize Average Order Value (AOV) of Your Online Retail Business
Best SEO Techniques- Getting Your Website Rank on No.1?
Get More Traffic To Your Website By Creating Local Brand Strategy
Optimize Your Website With Voice – Activated Search
5 Ways to Turn Your Website into Revenue For Your Business