Mobilegeddon – Everything You Need To Know!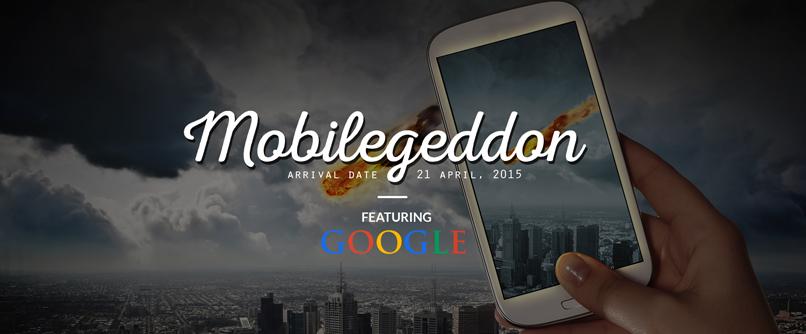 "Google is making a giant change this week that could crush millions of small businesses." – Business Insider India, April 20th, 2015
Rattled by #Mobilegeddon? For those unaware, what are you waiting for? Google's explosive new
(21st April 2015) the update may become your e-business' toughest battle yet! We give you 5 reasons to be worried..5 reasons to hire us!
1. Simply put, websites that are not mobile-friendly will show a decrease in mobile search rankings, if they are not already. Was yours designed solely for desktops? Time to act!
2. In 2014, 79.1% of global internet users accessed the internet from cell phones! The number of mobile internet users has overtaken that of those accessing the net through desktops. The stats paint a sad picture for e-businesses that have not introduced mobile-friendliness yet. Lack of traffic means no inquiries, which in turn means no business.
3. More statistics reveal that the percentage of people browsing the internet from cell phones is rapidly growing. Contrast this with the fact that 90% owners of small businesses do not have a mobile-friendly website! You are 1 of them, no?
4. The world's most popular search engine now gives preference to pages that provide an optimal viewing experience. They should be easy on the eye. Navigation should use as little planning and resize as possible.
5. Even if some pages of your site are mobile-friendly, others may not be! Also, separate mobile links do not necessarily mean that they are phone-friendly.
Add to these disturbing details the reports that Bing, the 2nd most popular search engine is planning to follow suit with its very own mobilegeddon! Makes sense. After all, why would users like to end up at websites that are useless for them? For you though, this could mean a heavy loss of traffic. That is, only if yours is not easy to use on small devices!
The truth is that website overhauling is some serious stuff and needs professional guidance. The quicker you act, the wiser. This is where we come into the picture!
With Google determining rankings every time a page is crawled and indexed, we will have your website up and performing efficiently in no time! What's more, you can also avail a 20% discount – a limited offer!
Important Tips to Consider For E-Commerce Website Development
5 Reasons why startups need a good Website Design
Check Out The Big Digital Marketing Trends in 2019!
Google Adds Favicons to its Mobile Search Results
Best Professional SEO Services in India Provided By FSC