Tips to Avoid Failure in Website Development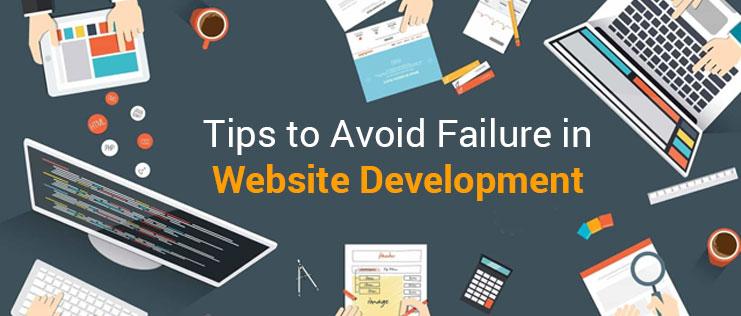 A brief look at your website and you get a melancholic feeling – a feeling that your website is slowly but surely sinking. Is your website just not delivering the results you were promised by your website development company?
Well, don't be surprised that it's happening to you and your prized website. Website development is a complex, time-consuming task with a very high risk of website development failure.
Well, it's time to accept that your website suck.
And what now? While acceptance sure is the first step towards improvement, there's nothing much you can do without sufficient knowledge.
It's one thing to know that your website is failing and falling short and another to know why. And it is only when you determine where and why your website stands, that you create some room for improvement.
The below-mentioned tips will come in real handy whenever you find yourself in a fix – doesn't matter whether you're getting your website developed by a web development agency or rendering your web development services to a client, these must-know tips to avoid website failure would take your website game a long way.
1. Always have a complete idea of the requirements – This one goes for everyone – if you're a website developer, it's pivotal that you have clearly understand what your client requires.
And for all the businesses out there, you need to possess a clear-cut marketing goal and purpose. You could need anything from a traditional website to a sales letter to a blog to an e-commerce store to an avant-garde website, depending in what your purpose is.
2. The lack of a blog – See, this seemingly boring this is a very powerful tool and also the fastest and the cheapest way to distribute your content (be it a written piece, a photograph or a video or just an infographic) among your visitors. To see your content being celebrated and shared, isn't that all the happiness you once desired. So why not have a properly formatted blog attached to your website?
3. Non-existent content and SEO strategies – Well, to be honest, nothing good can come out of a website which lacks, firstly a blog, and secondly sound content and SEO strategies.
Only having proper knowledge of your target user base and their persona, along with your brand's voice will really help you craft compelling content consistently.
Keep in mind that this alone would not take you to the first page of Google Search. Only a thorough keyword research along with several other on and off-page SEO strategies would take your website to the top of Google Search's first page.
Just like i mentioned at the starting of this post, web page development is a complex task, a task that requires genuine expertise and is best done by a proficient web development agency. Based in Delhi, FSC Pvt. Ltd. is an experienced digital marketing agency and a website development company that has, over the years, perfected the very art of web development. I encourage you to reach out to them for all your web design and development needs.
How to Maximize Your Business Digital Presence
Top 5 Brand Optimization Strategies Through SEO
How do FAQs Increase Website Traffic and Sale?
10 Tips to Increase Speed and Performance of a Website on Mobile
How To Get Your Travel Agency Listed On TripAdvisor