Top 10 Benefits of Facebook Marketing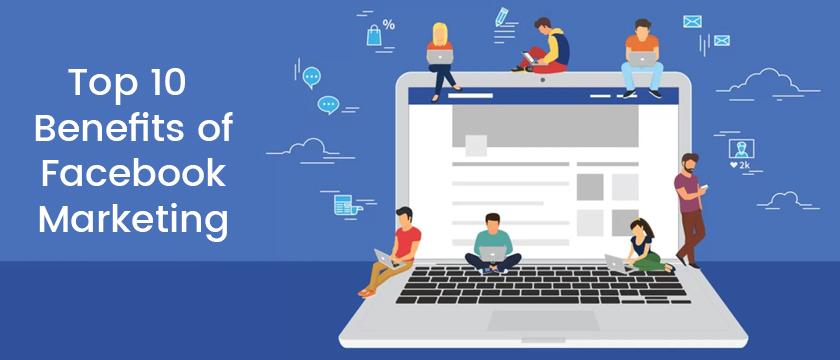 The number of active Facebook users is measured in billions. It is not surprising that Facebook marketing strategy is considered the best among SMM techniques.
So Here Are The Top 10 Benefits Of Facebook Marketing:
1. Over 2.2 Billion active users per month – Facebook is the third most active online platform in the world. The users are busy sharing feedback on products and services they use. So your business can get a worldwide exposure with a good Facebook advertising strategy.
2. More than 1 Billion members – Even if a single member puts up a feedback on a product, all the member's friends will see the update. When they like, comment or share, their friends will see the update. Slowly the feedback goes viral. Therefore, having a Facebook business account will help your business tremendously.
3. Average number of member-friends – According to Facebook analysis, every member has an average of 150 friends. Multiply that by 1 billion and you have the world in your pocket. A professional SMM expert can guide you on how to advertise on Facebook for better profits.
4. User engagement – The average duration of a Facebook user is about an hour per day. Maximum presence on your business page through videos, infographics, and announcements of contents, events, festival sales, discounts, etc is a great advantage.
5. Integrations with Facebook Connect – Including giants like MySpace and Yahoo, there are more than 80K virtual platforms integrated with Facebook. By following Facebook advertising guidelines you can connect with the maximum customers; irrespective of whether they visit Facebook or integrated virtual spaces.
6. Linking via Fan Box – A well established Facebook advertising agency in Delhi can guide you on how to use the Fan Box. This box is linked to all the watchers of your Youtube videos, website visitors, mailing list, etc. They need not visit your Facebook page to become fans.
7. Taking advantage of the Fan Box – Statistics show that just 4% fan pages multiply into 10K more fans. You can analyze the data to find out which links have generated maximum fans and redesign your videos, events or emails accordingly.
8. Customization of News Feed – Advertisements displayed on profiles of the 2.2 billion users depend on their individual preferences. Facebook helps businesses to target those potential customers who have already shown a preference for similar products; thus leading to better user engagement and conversion rate.
9. Customer feedback on Facebook – Search engines too have modified their algorithms to integrate better with Facebook pages. A negative feedback on your Facebook page will not be displayed immediately by search engines. This gives you time to take corrective action and display that online as well.
10. The Events page – Whether you are promoting an existing brand or launching a new one, even the best digital marketing company in India will suggest hosting an online event like a webinar. The Events page of Facebook will ensure that your event goes viral.
Boost Your Ecommerce Business with Best Ecommerce Website Development Company in Delhi
Best Tour & Travel Website Development Company in India
When You Should Update Your Website?
Ways to Generate Engagement & More Leads From Your Website
Professional Ecommerce Website Designing Company in Delhi