Top Four Benefits of Responsive Web Design from SEO's Point-of-View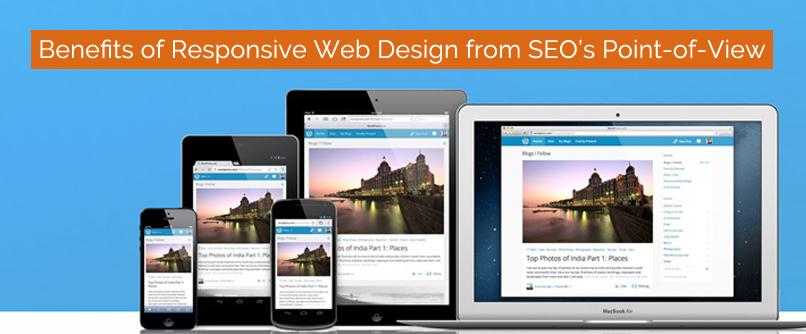 The technique of Responsive Web Design or RWD came to the fore in early 2012. After that, it has been established as the industry-standard for developing cross-device compatible websites. However, the SEO benefits of this technique has always been a hot topic of discussion among SEO experts worldwide. Here are a few reasons that clears the air and proves that the RWD technique has remarkable SEO Benefits.
Google Recommends and Loves Responsive Websites
Google does not only recommends RWD as the best way to target mobile-centric users, but also favors responsively designed websites when displaying search results on handheld devices, especially for local searches.
Easier and Effective SEO Managamenet and URL Optimization
As responsive websites have a single URL and single set of files and pages, it becomes easy for you to maintain rankings and other SEO processes and simpler for Google to crawl and index a website's content. All your established authority will be applied to a single domain and enable you to build social signals for the same one URL.
By having a responsive website, you can avoid the threat of your separate mobile and desktop websites canonicalized by each other. Your website visitors can leverage the advantages like optimal user-friendliness, easy navigation, well-displayed content, and 24*7 access to you and your business.
Reduction in Bounce Rates
A website that is sitting pretty on top of Google's search results is still threatened by high bounce rates if it is not optimized for handheld devices like Smartphones and tablets. Generally, people having two different websites for desktop and mobile have to compromise with content. This is a sign for Google that the website isn't offering relevant content to the users which would lead to drop in the rankings.
With the RWD technique of designing websites, there will be no need for you to compromise with the website's content. Hence, there will be no issue of bounce rates as the users would get what they are looking for.
Websites designed using the RWD technique never have to face the issue of duplicate content, leaving the credibility of a website untouched.
Users are largely traversing the internet on mobile and tablets these days and they expect an experience which is as smooth as desktop-browsing. RWD can help you not only provide that to uers, but also get benefits of SEO. Thus, going responsive is not only benefical from the user-friendliness point-of-view, but also from the view point of search engine optimization.
Strengthen Your Market Position by These 5 Branding Strategies
Important Tips to Consider For E-Commerce Website Development
5 Reasons why startups need a good Website Design
Check Out The Big Digital Marketing Trends in 2019!
Google Adds Favicons to its Mobile Search Results