What Is eCPM In Mobile Advertising?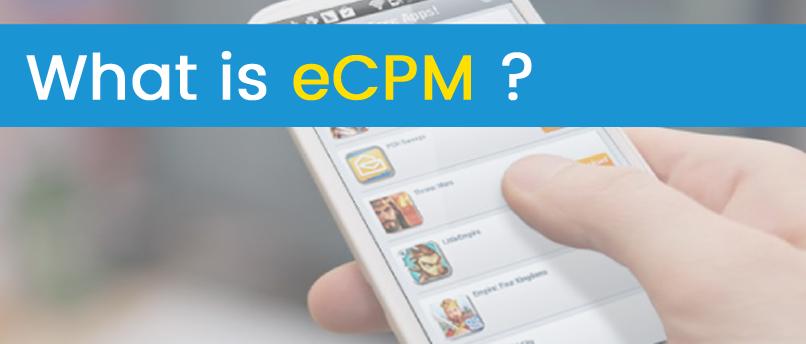 How do you know whether the advertisements on your mobile app are generating the desired income? The eCPM formula seems to be the answer going by what designers, ad publishers and advertisers are saying.
Defining eCPM and how it works
The full form of the term is Effective Cost per Mille (a Latin word for 1000). The monetization of an ad can be calculated using the formula:


To explain further we need to break up the formula into its salient components. This is how it works:
First you divide the total earnings (from an ad) by the total impressions given to that particular advertiser. A single impression means the ad is picked from its source and displayed once on the screen of the mobile app.
The quotient (after dividing) gives you the income from one impression. Now you know how much you earned for displaying a single ad just once in your app.
Since you are measuring per Mille or thousand you have to now multiple by 1000. The result shows your average earning from the advertisement.
Is eCPM essential with Mobile App Advertising?
The formula measures the monetization of each advertisement published on your app. It generates income every time a user sees it and not just when someone clicks on it. As a publisher you are definitely going to have more than one ad on your app to generate more revenue. This formula compares the incomes generated by different ads that run concurrently. It is a universally accepted standard that evaluates how good each ad campaign really is. Now you know whether a particular ad is worth publishing and which advertisement has monetized the most.
The eCPM of each ad is displayed against it on your mobile app. At a glance you know the user response to each ad. Obviously, the higher is the eCPM the more is the income from that campaign.
Using an Ad Network to boost your income
A Mobile Ad Network maintains a database of unsold advertisements. Each ad is offered to a potential publisher as a code which still remains on the Network's site. The ad is published from the Network's pool onto your app. Now the Network takes control of targeting the users of your app, tracking and calculating the eCPM and reporting monetization.
A Mobile Ad Network is a way of monetizing and monitoring the efficiency of ads on your mobile app via third party. Some networks maintain pools of ads categorized by different types of goods and services and offer them by relevancy. An ad for protein shakes would generate a greater interest and better user response on a fitness mobile app, wouldn't it? Others keep a general pool of advertisements that would suit different age groups or behaviour patterns. Either way, their main aim is better monetization of the mobile app.
Mobile App Advertising is very easy because the Network launches and monitors the monetization of all the ad campaigns. But this convenience comes with its shortcomings. It is similar to excessive delegation of duty. Sometimes relevancy could cause a problem because you have left the decision to others. An ad might be out of context for the regular users of your app. And that's definitely bad with where monetization is concerned.
Ways to Maximize Average Order Value (AOV) of Your Online Retail Business
Best SEO Techniques- Getting Your Website Rank on No.1?
Get More Traffic To Your Website By Creating Local Brand Strategy
Optimize Your Website With Voice – Activated Search
5 Ways to Turn Your Website into Revenue For Your Business