Why is Customer Satisfaction Important for a Company?
Posted On :August 22, 2017

/

Categorized In : News & Updates

/

Written By : Vandana Verma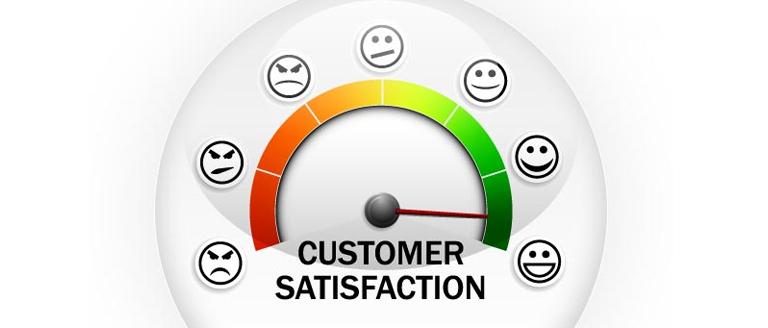 It is 2017 and competition amongst the businesses is more savage than it has ever been. This also means that customer, today, have more to choose from than ever before. And therefore, it's no longer viable for companies to have just above average customer ratings.
In fact, customer satisfaction is one of the most important differentiators between a surviving and a thriving business. Also, since social media has already given our consumers to amplify their sentiments, we simply cannot afford to ignore customer satisfaction and displease them.
To better explain how customer satisfaction works, let's imagine a real life scenario.
What happens when you bump into the person of your dreams? You try with all your might to win over them, right?
And once they agree to your proposal and make the commitment, do you stop caring for them? I suppose not, given that you still want them around.
Just like that, for a company, customers are those special persons. It does not matter whether you run a business to business firm or a business to consumer firm; at the end of the day, you are only dealing with people just like yourself. In its entirety, it's just a human to human enterprise, and that's where the importance of customer satisfaction kicks in.
Not convinced yet? Well, I have a couple of more reasons to highlight the importance of customer satisfaction. I have many valid points up my sleeve; this dating analogy was just one of them.
Building and nurturing relationships
Besides the high-quality product or service, customer satisfaction is another key component helping you develop a long-term relationship with your buyers. To keep this relationship working is, however, a difficult task. You need to constantly deliver value and satisfaction if you want this relationship alive.
This ongoing satisfaction, sooner or later coerces your customers to place trust in you. This leads to customer loyalty. And if you promise to deliver on your part, your customers too will continue their business with you.
Customer satisfaction is a point of differentiation
Like I've mentioned before, what we have today is a very competitive marketplace. While the businesses are struggling amongst themselves for customers, it's only wise to see customer satisfaction as one of the key differentiators.
For a moment, think of it as a customer. Given a choice between a few businesses, whom will you end up choosing?
While it's difficult to answer the question, it's very likely that a recommendation or a review would possibly sway your opinion. Now, where did this review originate from? Perhaps from a satisfied or a dissatisfied customer.
This is how customer satisfaction goes a full circle.
Reducing the negative word of mouth
On an average, a dissatisfied customer tells up-to 15 people about their bad experience. Moreover, about 13% of them can share their experience with up to 20 people. From where I see it, that's quite a lot of bad word of mouth.
Our customers have become more vocal. They aren't afraid to share their experiences with others online. If not dealt with seriously, this can turn out to be detrimental to a company's online reputation. This modern day environment has made it impossible to ignore customer satisfaction.
Let's now see how we can put this knowledge into action within our business.
First of all, we need to begin by focusing on exceeding our customers' expectations and going beyond them at each and every opportunity. To do this, the best thing is to ask your customers for feedbacks. With this feedback in hand, you can actualize new, improved processes that could help you strengthen your weak areas.
Customer satisfaction plays a very significant role in determining the revenue we generate. A study by InfoQuest suggests that a completely satisfied customer contributes 260% more revenue than a customer who is, technically speaking, just satisfied. Additionally, the study also indicates that a fully satisfied customer contributes 1400% more revenue than a dissatisfied one.
Very often, the negative aspect of customer satisfaction is overlooked. Like I mentioned above, losing about 20 people owing to a single person's dissatisfaction is a big problem. Thus it becomes all the more important to measure customer satisfaction as an important business metric.
As a leading digital marketing and online reputation agency, FSC can lend you a helping hand. Our customer loyalty strategies would let you have a sway over your customers at all the stages of the sales funnel. Through our exciting mailing campaigns and super interactive social media campaigns, we would not only help you attract potential customers but also let you retain the existing ones.
Ways to Maximize Average Order Value (AOV) of Your Online Retail Business
Best SEO Techniques- Getting Your Website Rank on No.1?
Get More Traffic To Your Website By Creating Local Brand Strategy
Optimize Your Website With Voice – Activated Search
5 Ways to Turn Your Website into Revenue For Your Business